Quick, delicious and convenient food has skyrocketed in popularity over the last few years, for a wide range of reasons. Not only is fast food cheaper than most other healthier options on the market, the fast service and plethora of options means that the desire for a quick meal has now entered the mainstream. With the global market of fast food expected to hit over $220+ billion this year, it's no wonder that some of the most powerful brands in the world fall within this industry.
The average American is so busy that they often don't have time, or the desire, to cook every single night. And that's where fast food comes in handy, offering a quick meal for cheap that has led to cult followings at chains like Chick-fil-A and Chipotle. But just how far does this passion go?
Postmates, an online food delivery service, takes fast food just as seriously as you do. But they wanted to know where consumers priorities lie, especially when it comes to the ultimate dream: healthy fast food. But there are sure to be a few basic habits consumers will never give up, no matter the price, right? That's what they set out to figure out.
They surveyed over 1,000 people across the nation to see just how highly valued fast food is in their lives. And, you just might be surprised at what they are willing to give up for healthy fast food for life (a life of fast-food binging for no negative health effects? Sign us up). Read on to see where your priorities stack up with the rest of society.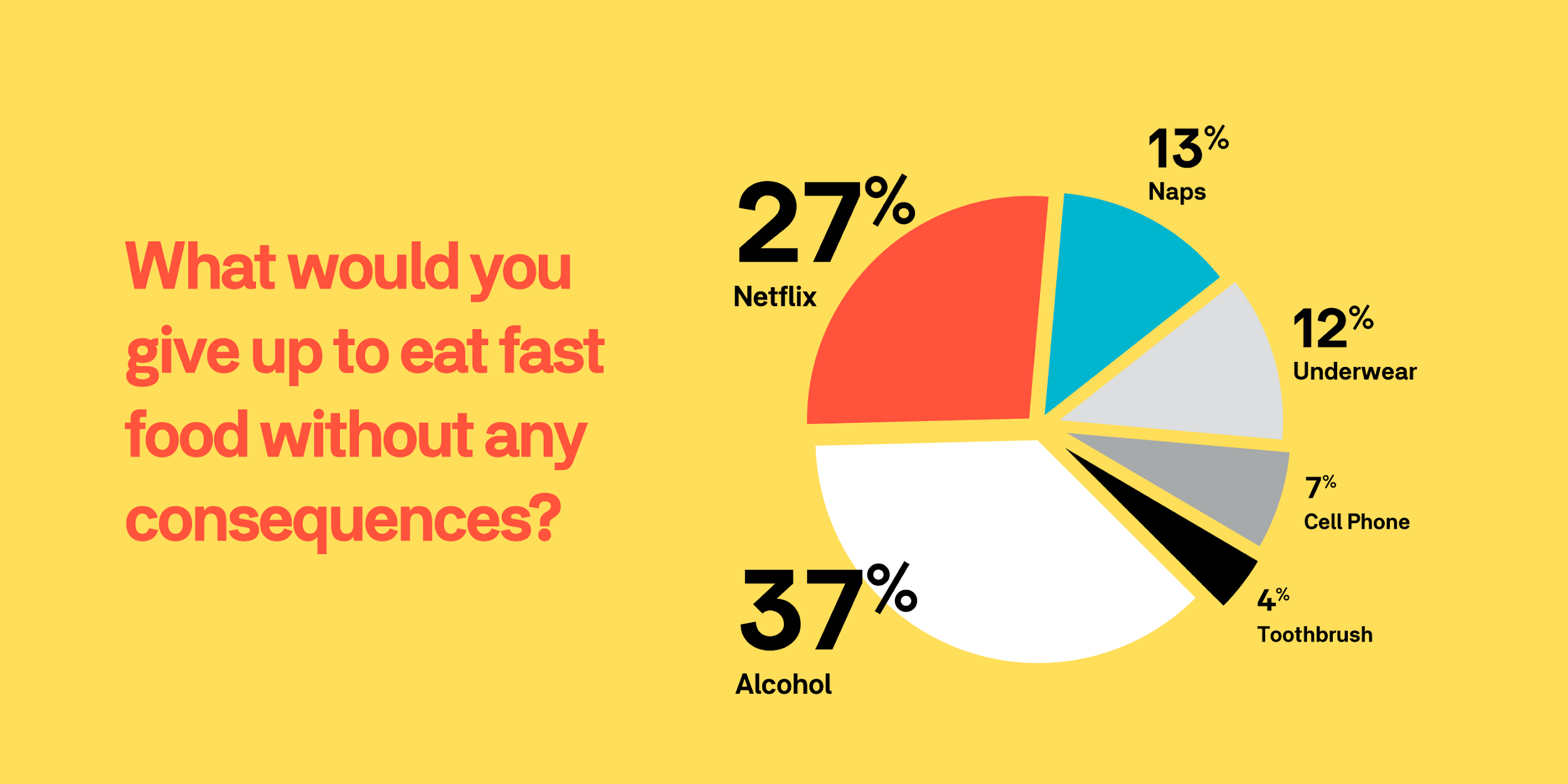 It turns out, fast food is so important in American's lives that they would give up a lot to be able to eat a healthier version that still tastes the same. They are even most likely to give up alcohol, Netflix, naps and their underwear for this health perk.
While we can't comprehend a life without Netflix binging, 27% said they would cancel their subscriptions to their favorite streaming service for this benefit. 37% said they would become sober for life while 13% would give up their afternoon siestas to eat burgers to their heart's content. 7% even said they would never use their cell phones again, which is a big deal in today's connected society. But that's not all they would ditch. In fact, consequence-free burgers and fries sounds so amazing that people will give up cleaning themselves to make it a reality.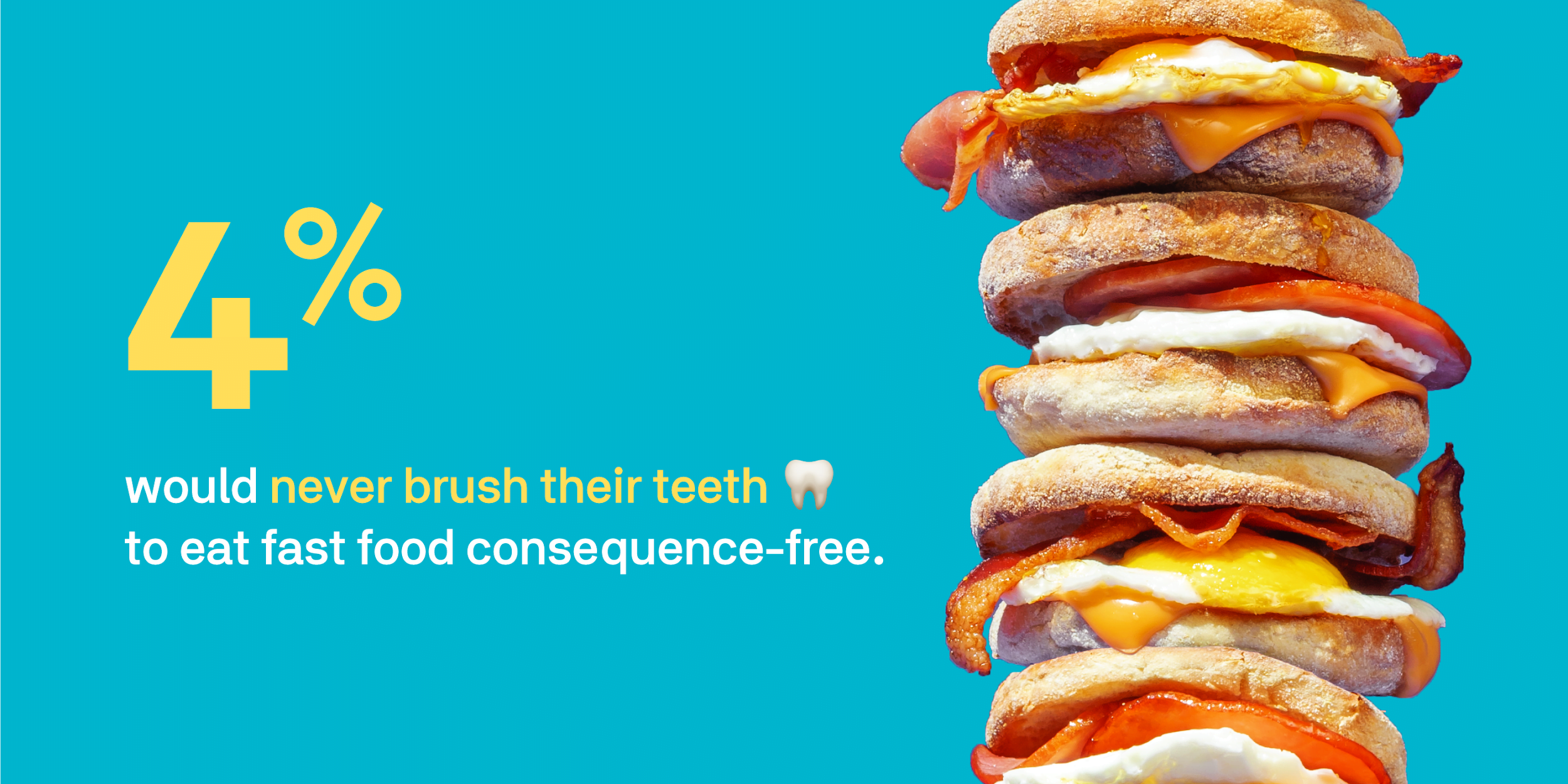 While you may cringe at the idea of gorging on a Big Mac and never brushing your teeth again, 4% of people have no problem with throwing their toothbrushes in the trash forever, though it may cause to implant their teeth. 35–44 year olds were the most willing to ditch this cleanliness habit, with 10% admitting they give up brushing forever if they had to. The group least likely to ditch their toothbrush? 18–24 year olds. 0% responded positively to this toothbrush dilemma. But that's not to say they weren't willing to give up other things that might sound gross to you…
When asked if they would go commando for life, that same age group (18–24 year olds) jumped at the opportunity. 21% said they are fine with never wearing underwear again, as long as it means fast food suddenly becomes healthy. This is a far cry from the 12% national average willing to never wear drawers again, but then again college students are notoriously broke so it kind of makes sense. But still, the idea of never wearing underwear again just sounds uncomfortable.
In addition to finding out what consumers would give up for fast food without health consequences, Postmates also wanted to find out more about consumers' love of convenience and how important it really is to them. And though it's reported that drive through lanes got about 20 seconds slower this year (we're looking at you, Chick-fil-A), this doesn't seem to be dissuading consumers from hopping in line anyways. Plus, the variety of online delivery services that have come out in the last few years have helped this problem by allowing consumers to get what they want delivered straight to their door at any time. After all, food that's delicious, cheap and will come right to your couch is a no brainer.
You know how you were taught growing up to never take candy from a stranger? Well, Postmates wanted to see how this lesson has held up over time. They surveyed people to see if they would accept free food from a stranger, and surprisingly a lot of people would. 11% said they would ignore their mother's warnings and except free fast food from someone they didn't know. Once again, 18–24 year olds were leading the pack here as they were the most willing to accept the food from a random person, at 17%.
Stranger danger might not be in the front of our minds as adults, but the idea that people would take this food from someone they didn't know shows just how important this food is to our society. Americans are always on the go, and always looking to save a quick buck. So a free offer of deliciously salty goodness is just too much to pass up, even if there is a risk involved. Although we have to wonder what the results would be if a stranger was offering up free salads (probably much lower).
But there is a way to get what you want without risking your life or turning off Netflix forever: just order it for delivery. No matter where you are, Postmates can be there fast to give you what you want at a great price. (plus – no long lines to wait in. A win-win!) And while we do suggest adding in a salad to your delivery rotation every once and awhile, there's no harm in indulging every now and again. So don't feel guilty next time you order McDonald's and turn on something to binge on your TV. That's what everyone else is doing too.