Sushant Singh Rajput was found dead in his Bandra penthouse on Sunday, the 14th of June, 2020. He had reportedly died by suicide, due to suffering from clinical depression for the last 6 months. His medical reports and medicines were found lying on his bed when one of his staff found his body. This came as shocking news to the Bollywood industry and the public, as his friends claimed him to be a happy and motivated person in his last days.
There have been speculations about what caused the actor to die by suicide. Actors and directors, who were also the late actor's close friends, have said that it was all a conspiracy by big shots in the industry, who refused to accept him in the industry as he was an outsider. People have taken to social media to blame various actors, directors, and production houses, and have also decided to boycott their work to get revenge on Sushant's death.
Video Source: https://www.youtube.com/watch?v=AKuWFRmbL8M
Investigation of Sushant's Suicide
While investigating the death of the actor, a lot of connections have come up to the Police. The Mumbai Police has decided to take time and interrogate each and every person connected to this death in some way or the other. There have been speculations about Mahesh Bhatt being involved in this case. This came out when Rhea Chakraborty, the late actor's rumored girlfriend, texted Mahesh Bhatt, telling him that Sushant was acting weird. The director has reportedly asked her to dump him as soon as possible. A few old statements have also come up where Mahesh Bhatt had said, "Sushant will commit suicide."
After these statements came to light, the police are probing deeper into the case to see if there is actually a connection between these statements and the actor's death. Here is what director Mahesh Bhatt and Brother Mukesh Bhatt had to say about the unnatural death of the actor.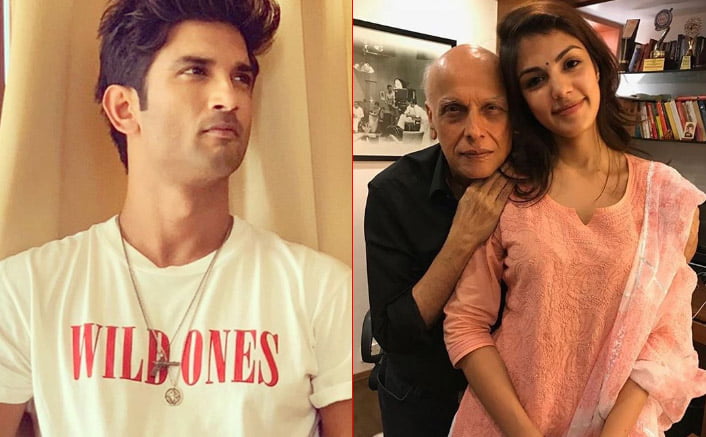 Controversial Statements and Acts
Mukesh Bhatt recently, after Sushant's death, said that he thought that the was walking on the same path as Parveen Babi did. Mukesh also said that he had met the actor a few times during different occasions and it had been pleasant. The late actor had come to Bhatt's office for the film Aashiqui 2, but things didn't turn out well. Mukesh revealed that during the beginning of Sadak 2, Sushant had come to meet him and Mahesh had discussed a lot of things for over an hour.
The director also adds that he felt Sushant was disturbed and disconnected in life, and that bothered him because he was a talented kid. He compares the actor to Parveen Babi, who was suffering from Schizophrenia, and says that he knew this was coming, hence he is not really surprised.
Mahesh Bhatt had a similar take on the young actor's death. He also agreed on the fact that he was going the Parveen Babi way. Reports say that Mahesh Bhatt had told Rhea Chakraborty, Sushant's rumored girlfriend, that the actor was mentally unstable. Rhea Chakraborty has worked with Bhatt in Jalebi and the two share a close bond. Rhea was seen leaving their penthouse a day before the actor died and hence, has been a connection to the case. Bhatt has also been reported to have suggested Rhea to break things off with Sushant.
Unclear Endings
It is Parveen Babi all over again, is what the director had said. The director also said that Rhea left the house she shared with Sushant because the former was hearing voices and was constantly feeling that someone was trying to kill him. This made Rhea scared and she left one day before the actor died by suicide. The police are still on the case and are trying to dig deeper into the case.