Online shopping is all the rage these days. Who wants to leave their house anymore anyway!? Black Friday has always been the big day for shopping, but digital retailers wanted to get in on the sale-based action, too. Thus, Cyber Monday was born!
In 2022, online shoppers spent an incredible $11.3 billion on Cyber Monday deals without ever leaving their houses. If you want to grab some of that spending for your online store, here are X ways to use email marketing to promote your store's Cyber Monday sale.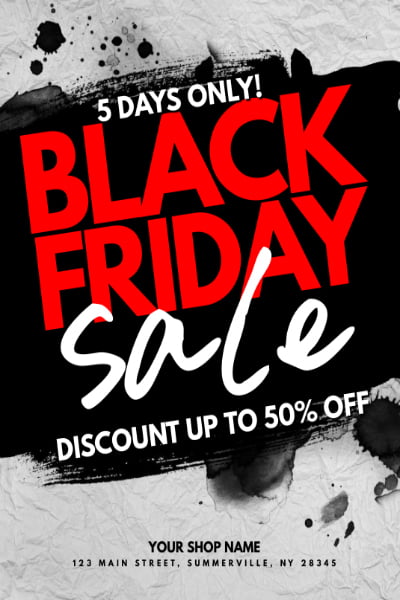 Use Eye-Catching Email Templates
Your emails are a representation of your brand. What would a boring text-only email say about your business? It'd tell all your customers that your business (and its products) are boring, too.
You want your emails to be enticing for potential customers, so be sure to use an eye-catching design that'll dazzle anyone who sees them.
Since you're busy preparing for the Cyber Monday chaos, you can save tons of time by using retail email templates to prepare your emails. That way, you can get professional-level email designs without needing professional-level skills or time.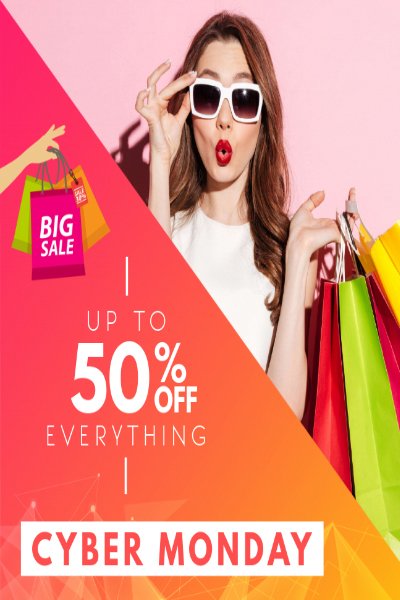 Grow your Contact List
The only way your Cyber Monday email campaign will work is if people read your messages. And if you want people to read your emails, you'll need to collect plenty of email addresses.
Here are a few of the most popular methods of collecting email addresses:
Offer digital emailed receipts for shoppers
Add a newsletter signup form to your website
Promote your signup form on social media
Just ask your customers!
Collecting contact information is a year-round job. The more email addresses you collect, the more successful your email marketing campaigns will be — especially when Cyber Monday rolls around. There's no such thing as too many email addresses!
Start Promoting Early
It takes a couple of tries for marketing messaging to sink in for customers. Many advertisers say potential customers have to see a marketing message at least seven times before they take action!
Since just one email likely won't be enough to get customers to remember your Cyber Monday deals, it's best to start your marketing campaign early and send multiple emails leading up to the big day.
You can start promoting your Cyber Monday sale up to a month or a couple of weeks before the sale actually starts. Then, send regular emails reminding your subscribers about the amazing deals every few days until Cyber Monday.
Don't go overboard and irritate people into unsubscribing, but you want to keep the messaging top-of-mind. It's a balancing act, but sending about one or two emails per week will usually do the trick.
Offer Email-Only Deals
Your Cyber Monday deals are probably already good enough. But if you really want to promote your sale, it's a good idea to offer email-only deals.
Email-only deals are, naturally, deals offered only to people who get your emails. For example, offer an extra percentage off for anyone who uses a discount code from your marketing emails.
Your email subscribers will feel like they're getting a special discount (which they are) and be more likely to shop at your website when the big day arrives. Email-only deals are a powerful way to boost your email conversion rates.
You can even use your email-only deals as a way to collect new contact information. People are almost always willing to give up their email addresses for a deal!
Add Plenty of Helpful Graphics
Even with an amazing email layout, giant walls of text can be scary! Don't forget to decorate your email marketing messages with plenty of graphics to break up the text.
Graphics can be anything from images and videos to clip art and shapes. Not only do they make your emails look even more professional, but they also help boost engagement with your readers.
You can also integrate helpful information about your sale and graphics by creating Cyber Monday posters and adding them to your emails. Posters can contain text and graphics together, so they're like an email marketing double-whammy!
Plus, once you design your amazing Cyber Monday posters, you can also print them out to hang around town, post to your social media accounts, or display them in your brick-and-mortar store to attract even more business!
Make this Cyber Monday the Most Profitable Yet
Cyber Monday is a big deal for online retailers. But with so much competition out there, it's important to promote your business's sales to as many people as possible.
The key to a great Cyber Monday email marketing campaign is to use professional eye-catching designs, build a massive contact list, start your promotions early, offer email-only deals, and include plenty of helpful graphics and posters. With all your marketing efforts working together, your next Cyber Monday sale might just be the biggest one yet!