A properly designed interior allows you to relax and pleases the eye. In this article, you will know about Most common interior decorating mistakes. 
Use our tips to choose the "right" furniture, correctly decorate the walls of the house without any interior decorating mistakes, and choose the color scheme of the interior. These are little, but very important things to create your own unique, comfortable, and "live" interior.
Clutter in the interior
Unsightly clutter and chaos in home decoration are stressful and ruin the pleasant interior experience you have been striving for.
Add stylish wicker baskets to your decor for storing small items that need to be close at hand. The baskets can be placed on a shelf, in a closet, or under a table. If there are a lot of things, then a good solution would be to purchase a cabinet with many drawers and shelves.
Furniture that doesn't fit
What looks attractive in a store may not fit into your living room space. To avoid mistakes when choosing furniture, use the following tips:
draw a plan of the room and indicate on it the places for the table, chairs, cabinet, taking into account their sizes. Consider comfortable walkways between pieces of furniture

take measurements of the room, this will help to avoid mistakes.

don't try to fit too many items
Too many colors
If the interior has a lot of color and patterns, it looks oversaturated, too variegated, and does not allow concentration. Eyes get tired quickly. Use 2-3 colors in the design, and add all the rest to the interior in the form of decor and accessories.
Incorrect lighting
During the day in your home, you need different lighting intensities. It depends on the purpose of the room and the time of day. Use different types of lighting in your interior:
chandelier

wall sconces

floor lamps

backlight

led strip
Now you can choose the one that is required at the moment. Another good way is to install a dimmer. It's easy to install, easy to use, and inexpensive. With its help, it is easy to choose the light intensity that suits you at the moment.

Paintings and posters on the wall
If you have to raise your head to examine a picture, poster, photograph hanging on the wall, then you have hung your masterpieces too high.
Squatting and bending over for the same purpose is also wrong. The ideal height for Wall Mirror decorations is at your eye level. Pay attention to the level of the doors in the room – your paintings and photos should hang no higher than this level.
If you decide to place the painting above upholstered furniture, then the distance from the bottom of the painting to the back of the sofa or chair should not be less than 20cm.
Don't forget about the windows
Window. This is one of the easiest and cheapest ways to change the look of a room. Usually, the curtains are hung 5-7 cm from the upper edge of the window opening. If the ceiling height is low, then the curtains should be hung directly from the ceiling. In this case, you can use the ceiling cornice. This technique will stretch the room in height.
Too many knickknacks
Accessories, trinkets, jewelry – you can call it whatever you want, but there is usually too much of it.
Look around, you used to like many trinkets, but are no longer relevant. You should not display everything that is, and place it on all surfaces. Choose those accessories that match the style of the interior and are in harmony with each other.
A well-chosen small collection always looks better than a flea market.

Artificial flowers
This is a controversial issue, but we believe that artificial flowers do not decorate the interior. They collect dust and do not bring life into your home like living flowers.
Natural flowers, of course, are more expensive, but they also look better and are fragrant. Of course, buying fresh flowers is always quite expensive, but there is a good substitute for them: a vase with bright fruits (lemons, oranges, apples) or a composition of bamboo stalks.
Too many sofa cushions
Sofa pillows decorate the room very much, but when there are too many of them, they interfere with sitting or lying comfortably on the sofa. 
Depending on the size of the sofa, 3 to 6 decorative pillows are usually sufficient. They can be of different colors, from a wide variety of materials. If you want to add a twist, order personalized pillows on All About Vibe.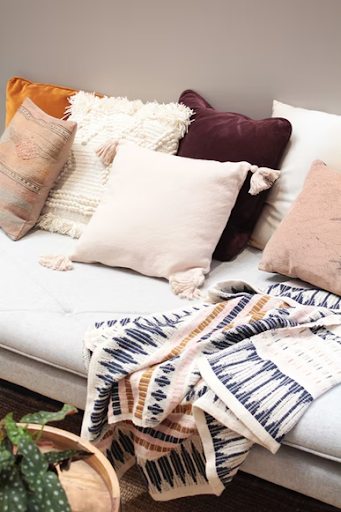 Pictures on the wall: less is more
We are sentimental, so often the walls, tables, shelves in the house are occupied by photographs of relatives, friends, or important events for us. This does not decorate the interior, and it is impossible to pay attention to the photographs themselves since it is scattered in such a variety.
What is the solution? Choose some of the brightest photos filled with positive emotions, hang them on the wall, or put them on a shelf. For the rest of the photos, organize thematic albums by date or event. 
After all, today photos can even be placed on scatter cushions. Lay a blanket, throw custom pillows with pictures. Additional decoration can be a beautiful bedspread, smooth and without frills.
So you will always easily find those photos that you would like to see or show, and the interior will be light and harmonious.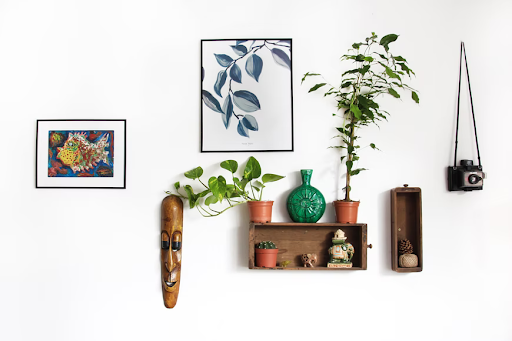 Ignoring the hallway
The entrance hall is a good opportunity to make a presentation: who you are, what is your home, what are your preferences. The hallway doesn't have to be grand, but any presentation is better than nothing at all. Add color and graphics to its design.
Hang a mirror or painting on the wall. A beautiful, large mirror will also visually increase the size of this, often small, room. Do not forget to place shelves at the entrance, where you can put your keys, umbrella, mail, and hang your bag.
Themed interior decor
Home decoration should be real and show where you really are. If you like a tropical beach, then a few accents in the form of seashells and corals, palms in a container, and colors of the corresponding shades are enough for interior decoration. Such accents should evoke pleasant thoughts, but not overwhelm. Don't turn the entire space into a Hawaiian beach.
Wrapping up 
Knowing the basic rules of interior design, you can arrange an apartment so that it looks harmonious and has no obvious flaws. If you don't manage to equip the apartment yourself, hire a specialist or look for ideas on the Internet. So you will not only develop your visual experience but will also be able to arrange the space stylishly and without mistakes.