Every pet parent loves their dogs so much. However, they also have to deal with lots of fur everywhere inside their home at some point. There's hair everywhere, and if you have a husky that's shedding, then it could turn into a challenge. Trying to make your home fur-free and clean is sometimes a struggle, but fortunately, there are many things that you can do about them. This blog will be about How to Clean Pet Hair on Carpets and Floors.
It's best to stick to the basics when cleaning dog hair. Get a vacuum whenever necessary. If possible, check out the best Shark vacuum for pet hair that will make your work quicker and easier. With these tools, you will be able to remove the fur on the carpet, curtains, couches, and other upholsteries in no time. 
However, before you start cleaning everything, make sure that you're using covers and blankets for your furniture. This way, you can just toss out the covers outside when you notice that they are already full of fur. You can throw the blankets inside your washing machine to make them clean and fresh so consider getting those.
Dryer Sheets can Pick Pet Hair Better
If you notice that hair is everywhere with your canine, you may find yourself picking a lot of fur off your clothes whenever you leave your home. If you need help removing the hair from your couch, the solution can be dryer sheets. 
The dryer sheet is composed of fragrances, liquid softeners, and lubricants that are coated on a layer of fabric. There's also a lot of cellulose fibers and polyester that can quickly come in handy when you want to clean a section of your sofa. You can use them on floor corners, baseboards, and furniture. A damp dryer sheet will do wonders for you.
Pick a Good Vacuum
There are specialized vacuums that can pick up pet fur on cabinets, stairs, and curtains. They come in lightweight systems that will enable you to reach corners, and they are very portable. Some may even come with cleaning attachments and pet tools so you can vacuum the hair directly from your pet dog, especially if he's shedding.
Vacuum is one of the most effective ways that you can do to get most of the work done in no time. It's essential to get the best ones with additional features so you can make your job easier. Remember to clean the brush rollers and filters afterwards so they will remain effective in removing furs. 
Use a Tape to Pick Out the Loose Furs
If a lint roller is not available, you can always use a roll of tape to pick up the loose furs. If you're tired of noticing your pet dog's hair all over your clothes when you go to work in the morning, a rolled tape will be able to help. The solution is to keep a roll in your bag if you have moments of "where did all these furs come from" when you're already outside.
Some pet owners even have packing tape rolls ready on their drawers and kitchen tables so they can snag that hair from their furniture or dress. Lint rollers may be more effective, but they will quickly run out. The tapes are more affordable, and they can do the job as effectively as a lint roller.
Sweep and Dampen the Carpets Before Vacuuming
If you notice that the carpet is full of dog fur or pet hair on carpets, you may want to prep the area as much as possible so the vacuuming will be easier. Roll the hair into a ball using a broom. Rubber brooms tend to make this job more manageable. 
Another thing that many pet owners want to get rid of is the odor on the carpet. While you're trying to roll the fur into a ball, add a little bit of baking soda on your mat and leave it for at least 10 minutes before you vacuum. Read more about the right way to vacuum on this page. 
Be careful not to soak your carpet in the water. A wet carpet is going to be an excellent environment for the growth of mold and mildew. You need to dampen this so you can easily remove all the hairs slightly.
Dampened Mop for Floors
You may have oak or vinyl floors inside your home. If so, use a dampened mop to pick up all the fur. The slight dampness of the mop will act as a magnet to all the hairs. Ensure to use a detergent afterwards for further cleaning and avoid any standing pool of water in one area. Some owners may use the ones with microfibers as they are specially made for trapping pet hair and dust in your living rooms and kitchen floors. 
Alternate the Direction of your Vacuuming
When you're in the process of vacuuming, it's best if you could alternate the directions a few times so you could pick up more fur. Those embedded deep in the carpets could become loose and trying it from the other direction can get them carried away. Empty the bags often and check the filters often to keep them running efficiently.
Use a Squeegee 
If you have windows and dogs, you may probably own a squeegee. This is a tool that's flat and has a rubber blade that removes liquid on flat surfaces. They are effective in eliminating paw prints on glass surfaces, and they are often applied with soap. 
While squeegees are often used on hard surfaces, you may be surprised to know that they can also work well with carpets and pet hairs. Just a few swipes should be enough to get you a pile of dog hair in no time.
Use of a Rubber Broom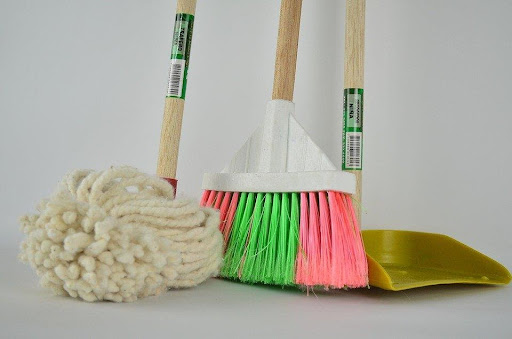 When you're dealing with wooden floors or concrete tiles, one of the best tools to have is a rubber broom. You can simply sweep the hair from the floors of your bathrooms and kitchens without any hassle. You could also save plenty of time since the broom will do a better job in handling hair if the area is dry.