Dogs, man's best friend grows dearer to us every passing day. Not surprisingly, people who say they do not like dogs find that these wonderful pets begin to grow on them once they spend time together. This is simply because they are amazing creatures that show an unquantifiable amount of love for their owners; loyalty is also another fine quality that these canine creatures possess and they can be very protective of their keepers. In this article, you will get to know about the popular dog breeds in the US.
For thousands of years, man has kept dogs around for several reasons. In the past, some were reared for hunting while more aggressive breeds like the Molossian were reared for war by the Romans. Today dogs are stable members of security teams, some are trained to be guides for blind people, and the most interesting role dogs play today in some people's lives is arguably emotional support. Click here to learn more about the Molossian breed. 
Whatever may be your reason for having this creature in your home, we will both agree that they always get the job done. There are over 190 registered dog breeds in the U.S, but some have become more popular than their cousins. In this article, we'll look at three of the most popular breeds in the U.S., presently. 
Labrador Retriever
The Labrador retriever also called Labrador is a medium-to-large sized dog that is friendly, high-spirited, and outgoing. It shows plenty of love to everyone around it and is quite friendly with other animals and unfamiliar people. The Labrador is sturdy and has a well-balanced physique. It has a wide head, and dense coat that comes in a luscious chocolate, black, and yellow color. 
It is one of the most loved dog breeds in the United States and that is because its kindliness and friendliness can easily be seen its warm, tender, loving eyes. Adult females grow up to 22 inches in height and can weight up to 70 pounds. Adult males are usually bigger and taller, growing up to 24 inches in height and with weight maxing at around 80 pounds. 
Labs are extremely energetic and athletic dogs and although not much is needed in its grooming and overall health, its owners should be prepared to engage it in many physical outdoor activities like long-stretch games of fetch, and swimming, to keep it mentally and physically fit. 
Because they are so energetic, Labradors tend to eat a lot to maintain that level of energy and stay lively. In fact, labs are active until they are asleep and you'll definitely want to make sure that you can match their energy before taking one into your home. Labs have a life expectancy of about 14 years. 
Poodles
Poodles have developed a reputation of being luxury, pampered, well-groomed dogs. But make no mistake, this breed was originally bred as water retrievers. In the past, Poodles served as water retrievers for hunters, jumping into streams to fetch waterfowls. 
Today, you won't see any Poodle doing "hard labor" because they are mostly kept by wealthy people that enjoy seeing them all primed-up, looking bright and lovely. They are affectionate and definitely fits into a family setting. They are one of the most intelligent breeds in the world as they can be trained easily and pick up on cues rather quickly.
Poodles are generally considered small to medium size dogs and come in three different size varieties. The smallest are the Toys variety that stand at around 10 inches at the shoulder level. Miniatures are usually 15 inches or under, while Standards are the tallest of the three with heights above 15 inches. 
As expected, all three varieties have varying weights. Standards being that the biggest weigh between 44 and 71 pounds, Miniature Poodles weigh between 33 and 42 pounds, while Toy Poodles typically weigh between 14 and 17 pounds. 
The relatively small size of this breed shouldn't be mistaken for a calm personality. Poodles are highly energetic as they are athletic. Some work is required to groom this dog as their coat need to be brushed down to the skin to keep them from matting. Many owners keep their pet on a low trim to save themselves all the trouble. Poodles live long, having a life expectancy of 10 to 18 years.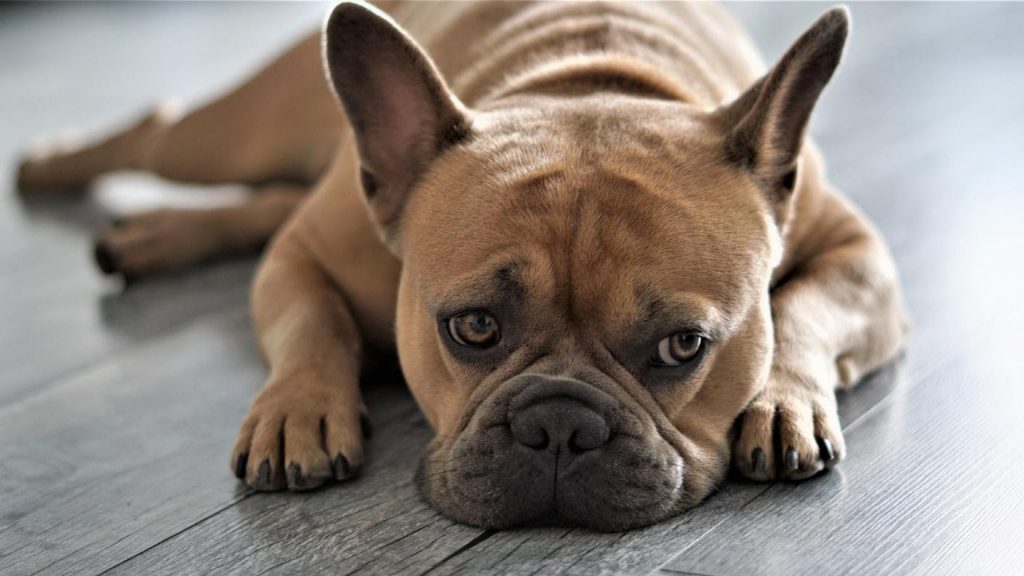 Bulldog
Today, we know bulldogs to be a compassionate, docile, easy-going, breed that are loving companions made for family love. But did you know that bulldogs have quite a bloody past? Yes! They were mainly bred for a bloody sport called "bull baiting". to learn more about bull baiting. 
Bulls originated in England as descendants of the Mastiffs that were brought to England by Romans. Fortunately, all the ferociousness that they were known for is now completely gone and the only resemblance they have with their ancestors is their physical appearance. 
It's impossible to mistake bulldogs for any other breed. Their unique look and build are hard to miss. Bulls are considered medium size dogs and have a low-slung, muscular body with a big head, and broad shoulders. Their face really stands out with all the loose skin around their eyes, mouth and nose. Coats are short, sleek, and flat and are usually seen in white, fawn, piebald, brindle, and red. 
Bulldogs are kind, resolute, and often seen carrying a dignified demeanor. They are known to bond well with their owners and keepers, especially little kids. Although generally tender, they could be stubborn when provoked, however, you won't see them exhibit any aggressive traits. This trait coupled with the fact that they get along well with other pets makes them excellent family dogs. 
Grooming needs for this dog is on the low side as a 10-minute soft brush three times a week should keep it looking its best. You'd want to take special care when cleaning the wrinkled areas since food particles often hide there, causing skin irritations. Dog owners should take their pets' health seriously as this is part of the responsibility that comes with having a pet. You can check out Holistapet dogs to learn more about taking care of your pet. 
Conclusion
Other popular dog breeds are Rottweiler, German Shepard, Great Danes, and Boxers. Each one of these dogs have certain characteristics that draw people to them; however, they all have one common trait- companionship.