Flowers are often a must-have for any wedding. It doesn't matter what your chosen theme or design is—a wedding doesn't seem complete without them. Once you get started with the wedding planning process, it follows that you'll be picking out flowers for the event, and it'll undoubtedly be one of the more exciting tasks on your to-do list. This blog is about 10 Tips And Ways To Incorporate Flowers Into Your Wedding Planning.
The flowers you'll use is a decision you'll most likely make alongside your wedding planner. They know where and how to showcase blossoms at your wedding. You can go from basic arrangements to highly intricate ones, with the goal of filling both the ceremony and reception venues. There are flowers for every theme, preference, budget, and color palette, so you don't have to worry about running out of choices.
If you're looking for ideas on how you can incorporate flowers into your wedding, you can try the ones in the list below. That way, you can be certain that you won't miss out on any of the floral decorations you want and need to have on your special day.
1. Floral Backdrop 
There are many areas at your wedding venue where you can have a background. It can either be for the ceremony itself or for the walls at the location where you'll be having your wedding reception. Among all the backdrop ideas you can opt for, a floral one is something you can never go wrong with.
You can use any kind of flower for this purpose. If real ones are too costly given that you have a large wall to cover, you can mix and match them with plastic flowers—no one would be able to tell the difference. Floral backgrounds always look great in photos, and your guests will love having their pictures taken in front of them.
2. Floral Headpiece
Not all brides will want to have a flower crown as their wedding headpiece during the ceremony. However, you can always wear one during your pre-wedding photo session, and they'd also look adorable on all the little girls who'll be attending the event with their parents.
If you're having a beach wedding, each of your bridesmaids may agree to donning a floral headpiece. With that said, flower crowns aren't the only type of floral hair accessory out there. You can also go for more muted floral pins.
Floral headpieces are suitable for everything from enchanted garden weddings to chic boho weddings, and they're often part of fall weddings ideas as well.
3. Floating Flower Arrangements
These never fail to look grand and elegant. During daytime, they can be one of the focal points at the venue. At night, they can be made more beautiful if you illuminate them.
If your wedding venue has a swimming pool, pond, or fountain, place some floating flower arrangements in it. If those aren't available, you can have small floating flowers as table centerpieces. Of course, there are other floral wedding centerpiece ideas you can find inspiration in.
4. Flowers As Gifts
Yes, a wedding is the most special day for the bride and groom, but it's also a momentous occasion for their parents and grandparents. So why not surprise yours with a bouquet of flowers each? Doing this would be a lovely gesture that'll signify the new chapter of your lives together as one big family.
5. Floral Cocktails 
What's a wedding without cocktails and some alcohol to kick off a night of dancing and festivities? Here's a good way for you to level up the beverages you serve and create a unique experience for guests: add edible flowers to every cocktail glass. These floral cocktails hit two birds with one stone since they look stunning and taste amazing, too.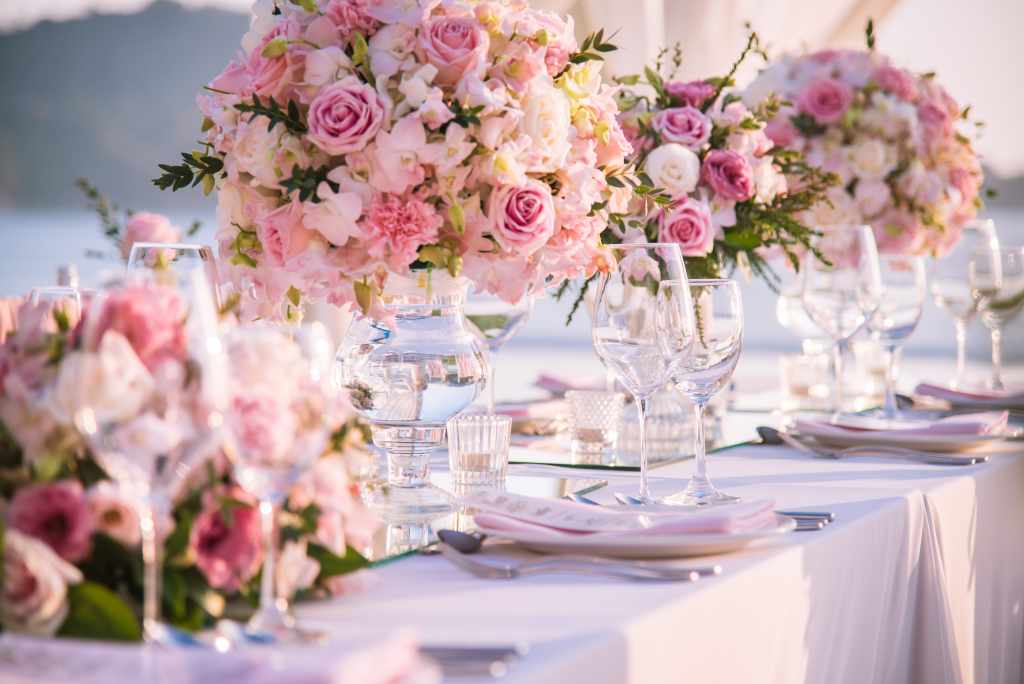 6. Wedding Favors 
For intimate weddings, you can go the extra mile with your wedding favors simply because you don't have to give out a lot of them to guests. Here are a couple of tips you can follow:
If you're placing your wedding favors in boxes, you can tie a ribbon around each box and top it off with a flower.

If you'll be using small baskets or bags instead, flowers can be used to decorate them or serve as gifts in addition to the wedding favors.
The idea is to add flowers to the souvenirs in order to make them more beautiful and special.
7. Floral Garlands
Lush floral garlands are versatile decoration pieces. You can have them running across long tables and add more blossoms on top of and around them. Apart from that, you can wrap them around stair railings. What's more, you can use flower garlands to line the wedding aisle.
8. Welcome And Entry Signs
Decorating the entryway of the venue is an excellent way to make a lasting impression on all of the guests. You can put up a welcome sign, a map of the entire venue for easy navigation, and photos of you and your partner. Then, you can finish it off with a gorgeous flower arrangement.
9. Hanging Flowers
Hanging flowers are especially ideal if you have an outdoor wedding venue where there are lots of trees. If the reception is in the evening, you can have fairy lights and hanging flowers at the same time.
Is your venue going to be indoors? That won't be a problem since you can still hang flowers from the ceiling. Just let your wedding planner know what you want so they can make the necessary arrangements for you.
10. Bouquets
Aside from the bridal bouquet, there should be bouquets for the ladies in your entourage, too. Understandably, the one for the bride will be bigger and more eye-catching. However, those for the bridesmaids and maid of honor have to be captivating as well. It's fine to have different flowers in each bouquet since there's no rule saying you should use just one type.
Conclusion 
As you've seen, there are many ways for you to make flowers a significant part of your big day aside from the usual table arrangements and corsages. They effortlessly add an elegant touch to weddings regardless of the theme. Although you can go with only a couple of the ideas above, you're free to combine all of them should you be especially fond of florals. With the right flower arrangements and décor, you'll not only wow your guests but also make your wedding a truly unforgettable event.