Making money online has never been easy, thanks to platforms like clickfunnels that simplify the process for you. This means that anyone on the planet with a computer and access to the internet can get into the large virtual economy that is the online marketplace. And it doesn't matter if you know how to or not, you can find useful resources online that make it easy for anyone to get started with making their first online bucks. In this article, you will know How to Use Sales Funnels to Make Money Online.
So if you are interested in ways to use sales funnels to make money online, you want to grab a cup of coffee and buckle up for the ride of your life.
What Are Sales Funnels?
Before we take any step further, let's first understand what a sales funnel is. Clickfunnel which is one of the popular option is a software as a service product (SAAS) that allows you to create a sales funnel. Did I hear you ask what a sales funnel is? Well, now you are asking the right question. To put it in simple terms, a sales funnel is a gradual process that allows you to bring your ideal customers closer to your offer or product. 
This will involve a series of marketing options that will be utilized to rope in your ideal client closer to what you are offering. In most cases, this could be in the form of a series of articles, videos, landing pages, and emails that help you achieve the aim of making a sale or getting a subscription.
This method of gradual selling rather than bombarding the client with your offering has proven to be more effective at conversion. And this is the aim of anyone trying to sell in today's online market. It doesn't matter the industry you are in or the product you are trying to sell, there is a good chance that you will be competing with many others like you. And if you don't have a surefire process that enables potential customers to better understand your product or offering, it could be harder to make a conversion. 
A sales funnel gives you the ability to take the sales process one step at a time and when done properly there is a high chance of a conversion. You can find more here on ways to make better web conversions. 
How to Use Sales Funnels to Make Money Online?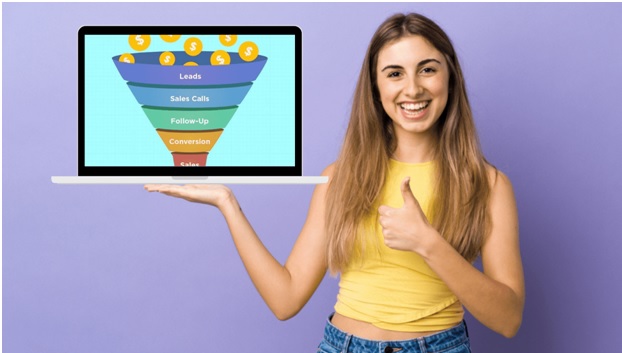 Now to the juicy part of the post on how to make money online with sales funnels. You probably have heard a lot of people talk about how easy it is to make money online. But the truth is that many of the people who make this assumption are only trying to sell you something. 
One thing you should know is that it takes time to come up with a sure template that can help you achieve your aim of making big bucks online. But below are some of the ways that you can easily make use of sales funnels to increase your income online.
Make Use of Affiliate Marketing
Affiliate marketing involves the sale of other people's products or services without having to go through the hassle of product creation. This has been one of the oldest ways by which people make money online. You will have to find a decent affiliate offer that gives a decent commission for your effort. And once you do, it will be left to you to go find customers willing to buy from you. You can make use of a sales funnel to simplify the buying process rather than paying for traffic as this can be expensive for you at the end of the day.
So you can create a landing page, video, or blog post with links to the affiliate product or service and get people to click through the link to make a purchase. But you will surely have to be convincing enough to get anyone to buy from you. There are available resources online that talk in-depth about how to crush it big time with affiliate marketing, so you want to check them out.
Sell an Online Product or Course
If you don't like the idea of selling someone else's course or product, you can as well get creative and come up with a product to sell online. Have ideas or skills you will like to teach others? You can also package them as a course and invite people to buy using a sales funnel. This has been a proven method by which many authors, e-course specialists, and online store owners have been able to make money. And the process could be simplified if you make use of sales funnels.
An ideal funnel for lead generation simplifies the process and provides you with templates that can make it easy for you to get started as soon as you subscribe. And with a 14-day trial period currently on offer by click funnel, there is no reason why you shouldn't take advantage of it and get into the making money digital community.
Start a Blog
If you think that it is too late to start a blog and make money with it, you need to think again. While it is true that the blogosphere is heavily saturated, there is still room to accommodate quality bloggers who are willing to put in the hard work to get the word out about what they have to offer. Take note that the watch word here is quality. 
If you aren't big on blogging but want to take your business from offline to the online space, you can as well make it happen. And while you can come up with strategies to get traffic and social shares and even sell your products or services, you can get a lot done with sales funnels.
Once you have done the hard part of setting up your blog/website, you can create landing pages using funnels and start directing traffic to them to increase your chances of visitors and selling. There is a lot involved with starting a blog or website and getting it right by spreading the word out. You can benefit from SEO and the use of social media to increase your chances of success so you want to make sure to come up with the right marketing strategy.
Final Note
Sales funnels are a great way to make money online and get visitors to your website or blog. You can also do well selling a course or product if you do the hard work of researching how to attract your potential customers. Do well to research deeper into your chosen option and learn all the current tactics that can help you navigate the challenges of online sales.