For many anglers and metal fishing enthusiasts, safety is of utmost importance if you are to come back home from your trip. While you must strive to come back with something worthwhile at the end of the day, you also want to do well to avoid any injuries or mishaps during a fishing adventure. 
Fishing can be an interesting outdoor adventure that both young and old can engage in for either fun or make a living, but there is no denying that you have to make it a must to get back home safely after each outing. So what are the ways to ensure safety while fishing? You can find out more about this in the sections below about a Fishing Adventure. 
Why Ensure Safety while Fishing in a Fishing Adventure?
For one, you will be out there in the water far away from medical emergency services and it could be a disaster if you have to rush into the emergency room quickly when you are far out at sea. For most professionals, the issue of safety shouldn't be debated and this ideology should be imbibed by newbies as well. Aside from external forces like the waves and attacks from water creatures, the way you handle your fishing gear and how you fish even can also put you at risk when out at sea. 
It is in your best interest to always be prepared when going outdoors and to do well to be always on the lookout for anything that can put you at risk while fishing. There is a lot you can do to avoid injuries when in the water, and it starts with looking out for yourself and others who are in the same boat as you. 
Fishing Safety Tips for Beginners and Professionals
You may already know that water is the most abundant substance on the earth and makes for over 70% of the earth's surface, and what this means for fishing is there are enough outlets to hunt in. Whether you are hunting in freshwater or mud water, looking for fish, or just in there to treasure hunt for metal using a fish magnet, you want to be aware of the safety protocols to follow while in the water. Below are some of the expert suggestions to keep you safe during a fishing adventure.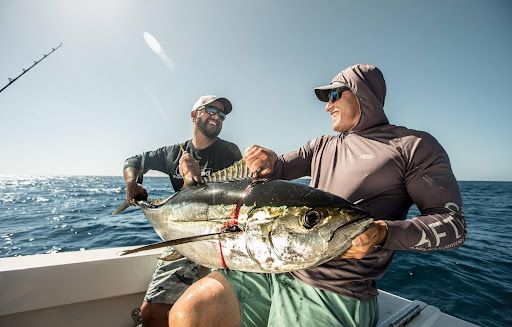 Never Go Alone 
Okay, this is probably worth mentioning since you surely can't predict what you will encounter on the way. So you want to give yourself a good chance of overcoming any obstacle that may arise by going in a group if possible. The worst-case scenario is that you go with someone who will act as an extra pair of eyes and will be useful in the case that you need immediate attention should you get injured. Also, it pays to have company during long fishing hours so you don't get bored. It will also increase your chances of success on your mission if you have someone to work with. 
Keep your Family Informed About your Whereabouts
It will also be a good idea to let people know where you will be heading out to on your trip. Which part of the city and water do you intend to fish in? What time of the day will you be heading out to the sea and when are you expected back? This information will help friends and family know about your whereabouts and where to start the search if they need to come looking for you. There is a lot that can go wrong at sea and keeping people in the loop about your plans will be a great way to ensure that you come back home after. 
Always Wear a Life Jacket 
It is common to see people in boats far out at sea with nothing to secure them if they fall inside the water. Even for the bravest of swimmers, it can be a big deal to contend with strong winds and tides when at sea. So you want to make it a must to always show up for a swimming adventure with a good life jacket. It is called a life jacket for a reason. It gives you a good fighting chance should you encounter life-threatening situations like when you fall in the water. 
Stay Informed About the Weather 
Professional fishermen make it a must to always keep up with the weather information before going out to the water. What is the weather going to be like and is it safe for fishing? You can follow up using your local up-to-date guide on the weather. For coastal areas, you want to be aware of the nature of tides so you know how exactly to prepare for your outing.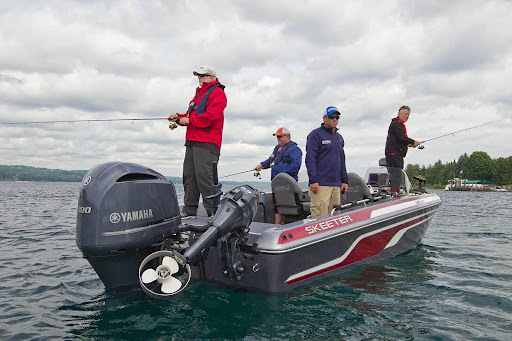 Ensure your Boat and Gear is in the Best Condition 
Another fishing safety rule is to always head out in a safe boat that will be able to withstand the tides and currents of the water. Wooden boats and canoes may be a good idea if you plan to fish in shallow water where you can easily swim to safety should there be any mishap. But you may be better off with one that comes with a motor so you can easily navigate your way in the water. This will help take away the hard work of paddling which can get you tired easily. 
In addition to a safe boat, you want to also do well to make sure your equipment is in the best condition. This will help ensure that you don't have to stress yourself while fishing. Use a box to store your hooks and lures and ensure that you have spare gear in case one gets damaged you can easily switch them out without having to get back on land. This website here has information on keeping your fishing gear in the best condition. 
Be Alert 
It may not be a bad idea to hang on to a can of beer when outdoors in the water, but while fishing, you want to try as much as possible to stay sober so you can be alert to happenings around you. It can be risky to be intoxicated while fishing as you can never predict when there will be an incident that warrants you to be in the best frame of mind to help overcome it. 
You want to also lookout for signs that alert you to the nature of the environment around you. Some include those that draw your attention to the presence of sharks or that are out of bounds to fishing. 
Final Note 
In addition to your fishing gear, you want to have with you a cellphone, radio, torch lights, SOS gadgets, and a first aid kit when out at sea. Remember to always keep your friends and family in the loop about your outing and do well to go in the company of someone or a group.