When you've finished your basement, you're left with a space that offers an endless range of possibilities for décor and utility. The basement can become a valuable extension to your home, providing everything from a spare bedroom for guests to a bar for entertaining friends. Alternatively, you can transform the space into a children's playroom or a studio apartment for lodgers. Many basements have concrete floors or a concrete slab on which you lay flooring, such as solid hardwood or porcelain tiles. Part of the work involved in finishing up your basement requires specialized equipment and supplies such as a cut off saw, concrete mixers, and grouting tools. Many homeowners find that ceramic and porcelain tiles offer the best balance of durability, resistance to moisture, cost, and easy maintenance. In this blog, you will know 9 Finished Basement Design Ideas. For inspiration, here are some finished basement design ideas:
Music Studio
For the experienced or budding musician or band, a basement can become your rehearsal space or recording studio. The concrete walls and soil surrounding the basement reduce the transmission of external noise to the inside of the studio, ensuring a clean recording. However, when you're setting up a basement music studio, be sure to add  soundproofing so that singing, guitars, drums, and other instruments don't disturb your neighbors or other members of the household.
Kids' Playroom
A basement makes an excellent playroom for children. Choose bright colors and exciting themes to create a comfortable, inviting space. Ensure your children's playroom doesn't have furniture with sharp corners and place a safety gate at the top and bottom of the basement stairs. Many playrooms feature wall-to-wall carpeting for added comfort and protection against trips and falls. However, for a lower maintenance alternative, consider carpet tiles. These provide more shock absorption and can be replaced if necessary.
Studio Apartment
Homeowners can take advantage of the booming marketplace for temporary and long-term lodgings by renting out their basement. If you're interested in listing part of your property as a rental space but want to retain your privacy, transforming your basement into separate living quarters can achieve both goals. Your basement will need a sleeping area, kitchenette, bathroom, and living area. Consider the flooring and décor you want to incorporate carefully, as this can impact the appeal of the space on the rental market. Remember that light colors can make a small space appear larger, whereas darker colors tend to have the opposite effect.
Guest Bedroom
If you have friends or family members staying overnight, your basement can also work as a guest bedroom. In addition to bedroom furniture, consider adding a small table and chairs or mini-fridge if you have space. You can also add throws, duvets, and other soft textiles to make the room more cozy and comfortable. For added convenience for your guests, add a small guest bathroom to your basement. You'll need to connect the plumbing to your existing pipes in the slab and ceiling, which means demolishing some of the concrete slab. If you plan on tackling this project yourself, you'll need demolition hammers or drills to break through the concrete and access the main plumbing stack. If the concrete flooring is less than 6″, you may cut through it with a cut off saw.
Private Bedroom for Your Teenager
If you have several children who share a bedroom, there may come a time when they want their own space. If you're short on space, you can transform your basement into a private bedroom, allowing your teenager some independence away from younger siblings. On school nights, your teenager can study in peace, free from the distractions of the rest of the home.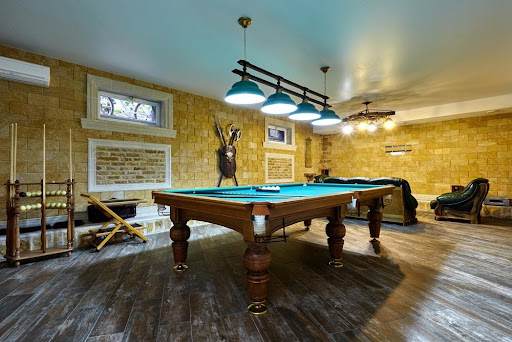 Game Room
For many families, the basement can become a dedicated game or recreation room. The square footage is usually enough to accommodate video games, pool and ping pong tables, and foosball.
You'll also need to ensure that you adequately seal and waterproof your basement. You don't want condensation or moisture to ruin valuable electronics. Place wiring for video-game consoles, TVs, and other electronic devices under carpeting to reduce clutter. The room should be well lit but not blinding. If you intend to use a projector for a home cinema, consider installing blackout mini blinds on basement windows.
Basement Bar
A bar in your basement can be an excellent way of entertaining guests during social gatherings. When it comes to décor, you have many options, from modern and minimalist to rustic and classical. Decide where you want to place the bar. Try a kitchen island in the center or against a wall. Display shelves for bottles of alcohol, a rack for wine bottles, and a hanging space for holding wine glasses upside down can add an authentic touch.
Home Office
When you're working from home, avoiding distractions is important for maintaining productivity. Turning your basement into a home office can help you focus on your work.
Ensure that you have adequate lighting. Light from the computer monitor can cause eye strain, so you need a desk lamp or overhead task lighting. If your basement has a window, the natural light can make a significant difference to the illumination of your workspace. You'll also need to ensure there are ample electrical outlets and that internet connectivity is fast enough for your work.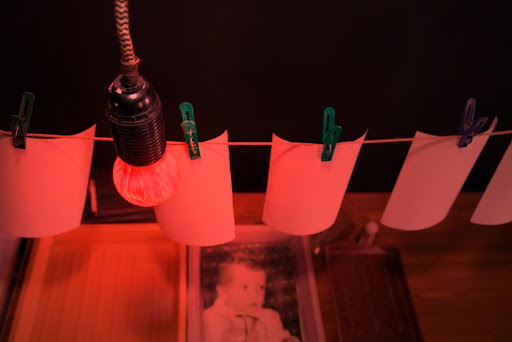 Darkroom
A basement can make an excellent darkroom for developing film for amateur or professional photographers. One of the priorities when establishing a darkroom is to make it light-tight. This means eliminating sources of light. You can usually accomplish this task by installing blackout curtains or blinds.
While it may be tempting only to use your darkroom in the evenings, the developing process can take hours. So, it's better to have the versatility to choose when you want to work by setting up a darkroom in a basement that typically receives minimal natural light. You'll also need to ensure that the basement has adequate ventilation because developing photographs requires chemicals that produce fumes.
Rethink Your Basement Design
A finished basement not only offers additional living space but can also increase the resale value of your home, giving you on average a 70-75% return on your investment. Consider the type of room you'll benefit from most in terms of day-to-day living, whether that is an extra room for the kids or a space to accommodate guests.