Kitchen packing – everything you need to know. Moving is important all right, so much so that it's one of the greatest challenges that practically every person undertakes. A complete change of environment, people and medium takes place, with an incredibly stressful, very confusing, often completely unpredictable moving process. But don't worry – Express Moving Van Lines is the perfect company to put all those worries to rest, starting with your kitchen. In this blog, you will See the most important steps to follow when moving a kitchen.
Today we've collected the best parts about moving a kitchen that you must incorporate into your plan, to get the most out of your move and remain stress-free for the entire duration. Moving will be a breeze, and your kitchen will thank you!
1.     Clean it out!
All moving advice should start with this true, extremely basic yet often forgotten or underrated maxim – the fewer things you've got to move, the easier it is on you, your movers, your neighbors, and well, basically everyone. When moving, the number of things you bring with you should never exceed the number of things you need and want to have by you.
And kitchens are one of the worst offenders when it comes to sticking by things a touch too long, especially for old memory's sake. Unless you're one of those people who has developed an entire relationship with your old, unused toaster, perhaps it's best to throw it out, donate or sell it.
This will help you directly, as the cost to move a kitchen can become significant, if there's a lot of special equipment that needs dedicated packing. Electric equipment tends to require extra attention in that case, so keep it in mind if you're planning to keep an espresso machine around you haven't used in over 5 years – maybe it's not worth it.
2.     Spick and span
This is also general life advice from your Californian movers in the USA, so read up: when moving to a new place, or looking to enter a new chapter of your life, make sure to clean the place out well – literally. Before you begin the move properly, clean your appliances, counters, and utensils – it will make a world of difference down the line.
Naturally, you should keep a few things around that you'll be needing on a day-by-day basis, but never be afraid of ordering things together or starting the packing early, with a bit of cleaning. Nobody wants to ever enter their new home, and the first thing on their to-do list is to clean out the oven.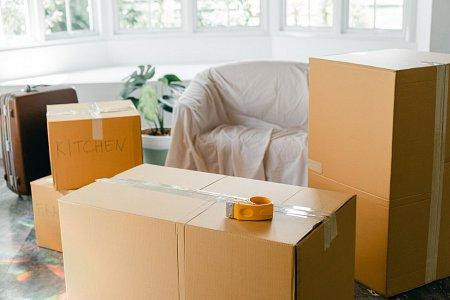 3.     Pack smart and carefully
Always pack half as much as you think the box can realistically fit. Dishes, glass – it can all get very heavy, amazingly fast. Make sure to include a lot of packing paper, and stuff them inside with as much soft fabric as you can muster. Never place plates vertically! Always put things down in the exact way you store them, as that tends to be their most impact-resistant placement variation.
Group items by categories and pack them together. Unless you're planning to pack by-room, it's worth keeping all dishes together, even if some are ornamental and others are purely practical.
Think of packing as letting your inner origami master out. What do you mean you don't have one? Just concentrate on fitting things together in an orderly, planned manner. Look at the pieces you're working with, most of which have different shapes and sizes, and figure out which would pass best together, and save the most space. It's no secret that moving a kitchen isn't cheap, so the more space you can save – the less likely you'll need more trucks to bring your things to the destination.
4.     No food
No food allowed! For health and safety concerns, packing food is typically prohibited by most moving companies. And for good reason too. Trust us, you don't want what's going to come out of that box a week later.
Unopened food that stays good for a long time, which can ride on a truck for a long road, be exposed to different weathers, and still come out good at the end is rare. It's a great idea to simply finish your food before moving, and perhaps order take-out if you're still hungry. Most of your cooking utensils should be packed away safely, or be ready to be packed anyway. A pizza is your best friend, but failing that, pre-cooked meals are always an option – so long as you've got a plan for storing them and dealing with the Tupperware later.
5.     Label
Packing a kitchen should always end with exact, distinct, perhaps even color-coded labels all over the boxes. There should be no doubt in your mind when it comes to exactly what is in each box. This will not only save precious time and nerves when your dinner's ready post-move, but you've forgotten where the plates were stored.
No, this organizational tool will help your movers handle the items with carefulness, regardless of where they're taking them. Additionally, they will know exactly where to place the boxes and help you keep track of your belongings. During the moving process, it can be easy to lose sight of things or wonder what could've happened to your favorite things.
By having a handy inventory list, which cross-references the labels on each box, you can easily and effortlessly check that everything is safely where it should be, with no scratch, dent, or bend in sight.
Moving your kitchen can be a difficult endeavor, but with the right movers, it's a piece of cake! With Express Moving Van Lines, you can always profit from the best deals, and the greatest movers in the US, with just a call or an email. Our doors are always open for prospecting customers and we're more than happy to consult you on how we can make moving your kitchen, commercial or not, a tremendous success. Leave everything to us, and you won't look back.