As the weather gets cooler, having a fireplace is very important as it keeps you and your home warm. There is nothing as exciting as sitting by the fireside with your favorite book and a cup of coffee by your side. Let's see the benefits of gas fireplaces in your home.
Before you go wild in your imaginations of a fireplace well-decorated with logs of wood, burning bright; note that a natural gas fireplace is not like that. It is more modern, saving you a lot of stress; this is why it is more preferable for some folks. It can appeal to any preferred style of a homeowner plus it is environment friendly and cuts the cost of your energy fees. Below are some advantages of installing a gas fireplace.
1. It is a Constant Supply of Heat
This is one of the best reasons for getting it. Unlike the traditional burning of wood in a corner of your home, this fireplace does not demand so much attention to avoid quenching or dying. Even if you forget to turn it off before going to bed, you have nothing to bother about. It constantly produces heat which is an added benefit during cold weather periods.
The most interesting part is that it is accompanied by a temperature regulator that can be affixed to the wall. This will in turn help you to control the size of the flame and preserve a particular room's temperature.
2. It Demands Little Maintenance
It is not like using firewood to keep your house warm, so you won't have to keep sweeping ashes and wood remnants. Such wood fireplaces usually demand the burning of wood to keep the fire aglow. Also, you must constantly maintain a wood fireplace and its chimney to ensure it functions effectively and prevent creosote build-up. 
A gas hearth won't make use of firewood. Therefore, it will reduce your workload of cleaning ashes all the time, chopping and piling wood, and the expenses of buying them.
3. It Helps You Save More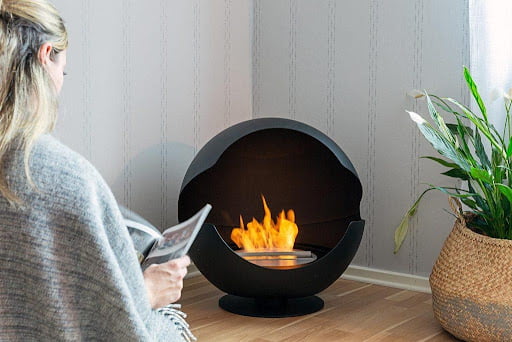 Saving more is a benefit one needs to enjoy especially in times of economic crisis. Instead of buying firewood, having a gas-powered fireplace will help you reduce that cost drastically because it is controlled by a thermostat. With ease, you can heat up only the parts of your house where you stay often. 
Now, this is helpful as you don't have to spend more heating up rooms that are not in use so often with a general heater. Also, you can cut down on heating expenses by making use of this fireplace to keep your sitting room warm. This is especially during times of unforeseen weather conditions when you may need to get enough warmth that a central heater may not provide.
Additionally, considering the cost of buying wood, installing a gas-operated fireplace is not entirely a bad idea. It helps you cut down some expenses, save more money, and have some extra to attend to other important things in your home. You can check out https://www.millionacres.com/real-estate-market/articles/wood-burning-vs-gas-fireplace-which-is-right-for-you/ to see how gas and wood fireplaces compare against each other.
4. It is Easy to Operate
Not everyone knows how to arrange wood the proper way to start a fire, or even how to keep the fire burning when it begins to quench. But with this gas hearth, you can operate it manually with a thermostat; just one click and your room is set to be warmed. 
Some models are accompanied by a remote-controlling device which makes it easy for people to operate. Others provide a timer to enable you to pre-set a particular time of the day to turn it off. Chimneys that usually accompany traditional models of burning wood are not present in gas fireplaces. This means you can set it up in other rooms such as the bedroom.
5. It is Stylish
It adds style to your home according to your preferred taste. It usually comes in varying patterns, sizes, and colors, giving your home the aesthetic value it should have. Depending on your taste, you could choose one that has logs that appear so natural. This will give you that traditional outlook of a fireplace. Whatever style of home you have, there is one available to meet it.
6. It is Friendly to the Environment
Unlike the woods that produce lots of fumes, this gas fireplace doesn't produce such. As a result, it is not harmful to the environment. No wonder, it is the most preferred choice for homeowners who consider the effects fumes have on the environment after a period of time. You may want to read this article to know more about installing a gas fireplace.
Conclusion
A gas-powered fireplace is not only cheap to install but also convenient for use. Thus, you should endeavor to replace your wooden model to ensure a continuous supply of heat instead of the tedious method of fetching wood to feed a fire. You can also improve your home's value with a gas fireplace.