Mats are an essential part of every home's decor. Not only do they add to the aesthetic value of your floors but also make the home comfy. Similarly, they come in varying colors, sizes, and designs to choose from. Bath mats, for instance, dry up excess water from your feet after a shower and prevents you from slipping. You can place it in front of the bathtub or at the entrance of your bathroom as a stylish addition. Nevertheless, selecting the right one that suits your budget and style might be a bit tricky. You can check out Stein Mart – bath towels and get a few questions answered before buying your bath mats. Here are a few tips you can use  for choosing the right bath mats.
Mats come in different shapes and sizes including oval, rectangle, and square. Before opting for a particular shape, you should also consider the size and shape of your bathroom area.
Measure your tub floor and ensure that the mat you opt for covers the entire area. If the bathroom measurement doesn't rhyme with the size of your mat, it may ruin your floor décor.
The average size of a bathroom mat is approximately 60 x 40 cm.
This is another essential quality to consider. suction cups hold the mats firmly on the floor and prevents you from slipping and falling.
The suction cups are distributed differently in every type of bath mat to fit securely on every floor. Make sure your choice has a firm suction cup before purchasing it.
The last thing you want is you or your family member breaking their bones from a bad fall that could have been avoided.
Most of these rugs come in different designs and materials to fit perfectly in the bathroom. Others are designed precisely for showers.
If you are looking for a shower rug, then you might consider a square and more compact design slightly different from that of a bath tab.
The bathtub ones have a more extended design. See this link to read about the few types available https://www.spaces.in/blog/types-of-bathroom-rugs-you-should-know/
The bath rug you choose should much your floor and wall décor. Luckily, there is a wide range of colors and styles available to choose from.
You can choose from blue, dark, or transparent colors depending on your style. It is easier to sport mold and mildew from a transparent rug than a dark color.
Nevertheless, dark colors like opaque gray may blend well with darker surfaces. Also, choose a fade-resistant color.
Drain holes allow the smooth flow of excess water when showering. Make sure the bath rug you opt for has sufficient draining holes to prevent water pooling.
You can either opt for a bath rug with multiple tiny openings or one with a single big drainage hole and position it over a drain. Besides preventing water pooling, these holes protect the mat from mold and mildew build-up by allowing it to dry up completely.
Nevertheless, you should frequently check around the holes for trapped dirt and hair.
The main goal of having a shower mat is to prevent falls. Make sure your bath rug has an anti-slip surface to grip your foot when showering.
This is also effective when you have small kids around. Children are known to be hyperactive and if their feet are wet, they may slide and fall.
Rubber or PVC mats are perfectly textured to hold your foot and prevent such accidents. In fact, the wetter they get the better they grip.
Cushioning adds extra comfort to the bathroom rug, allowing you to enjoy the entire experience. Rubber mats are known to have more padding than PVC mats. However, most high-quality PVC mats have soft bubbles on their surface for extra comfort. Click here to see a few more tips.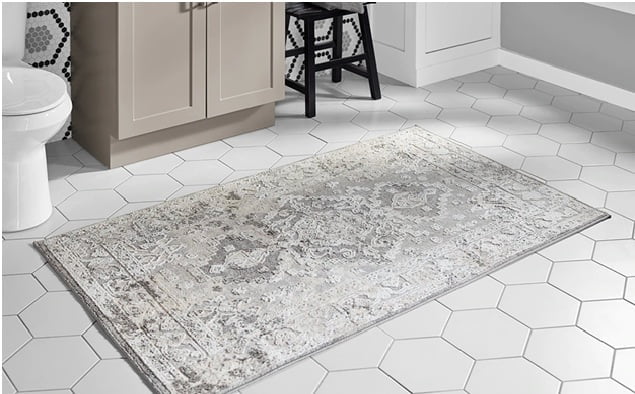 Conclusion
The right bath mat should provide enough grip and prevent accidental falls. It should also be easy to clean and fit properly. PVC or rubber mats are ideal for the shower and bathtub areas whereas bamboo, microfiber, memory foam, chenille, and cotton rugs are best for the outside of your bathroom. Plus, the microfiber mat is more absorbent and durable, so you can consider it when on a tight budget. Whatever type of rug you choose, ensure to keep it clean and dry to prevent mold and mildew build-up.