Has your roof recently sustained severe damage? If yes, you're probably wondering whether your insurance company will cover the repairs. It often happens for homeowners to have their claims denied, as not all types of damage are covered. In this article, you will get to know what types of roof repairs are covered by insurance.
The majority of insurance companies usually cover deterioration caused by lightning, fire, natural disasters, falling branches, vandalism, water, storms, snow buildup, etc. The policy has to be read attentively, as there might be different exceptions that deny coverage. 
Experienced roofers can assist you in assessing the damage and documenting evidence. 
These are the most common types of damage covered by insurers. 
Storm damage
Roof damage done by rough weather is usually covered by homeowners' insurance policies. Such deterioration may be caused by high winds, hail, rainstorms, etc. For instance, winds of hurricane force, more than 74 mph, are capable of damaging roofs and leaving houses exposed to the elements. Hurricane-force winds have the power to tear or remove shingles, leaving the deck and underlayment exposed to weather elements. 
In the event of storms with lower severity, winds are able to curl and lift shingles. In the course of installation, roofers make sure shingles overlap, considering it's the best way to make a water-tight seal. Nevertheless, when shingles become curled or lifted, the seal is no longer water-tight. Consequently, the structure becomes susceptible to rain driven by wind. 
Hailstorms, on the other hand, last no longer than fifteen minutes, resulting in dents in metal roofs or cracked shingles. Hail is believed to cause shingle granule loss, which is a serious issue given the protection granules provide against the sun and rain. It's of the utmost importance to have the structure inspected after a hailstorm to avoid missing the damage. Bear in mind that most insurance companies provide homeowners with a period of one year to file a claim. 
Moreover, standing water is another form of damage to roofs with improper drainage, happening after severe rainstorms. When gutters become clogged, rainwater is backed up and finds its way under the shingles. Visit this website to learn how to clean gutters with gutter guards. 
Debris is another threat to the safety of roofs, depending on the severity of the storm. In most cases, branches and tree limbs can make dents and affect the shingle surface. As a result, the structure becomes prone to the intrusion of moisture. Anyhow, light branches are incapable of causing such damage. 
Following a storm, homeowners are highly advised to have their roofs inspected by professional roofers, as they're experts in damage assessment. Apart from visually inspecting the structure, roofers inspect the gutters, vents, windows, outdoor areas, and attics. They check for potential dents on the gutters and roofing accessories like overhangs and gable vents.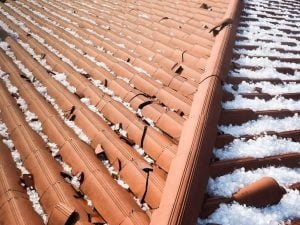 In addition, the outdoor area should be checked for fallen tree limbs and damaged or missing fence posts. Roofers ensure the attic and ceilings are inspected for water spots and leaks. Even in the absence of visible damage done to the exterior, it's common for ceilings and attics to show signs of water damage. Professional roofers take notes and pictures in the course of the inspection to ensure even the slightest damage is documented. 
Damage done by birds
Another kind of roof damage covered by the largest number of insurance companies is caused by birds. Even though the chirping sound of birds singing in the morning is pleasant to most homeowners, these creatures are capable of causing serious problems. Fortunately, there are plenty of professional roofers, such as helping homeowners organize their insurance claims when experiencing roof damage. For example, birds can clog the gutters, block HVAC vents, produce acidic droppings, etc. 
While most birds nest in trees, some of them have a habit of nesting in gutters. Birds especially like the roof corners, where gutters and downspouts merge, as they have access to fresh water. Nevertheless, their nests are likely to stop the water flow and cause gutter damage. Professional assistance is necessary to transfer the nests prior to getting rid of the clutter inside the gutters. 
Furthermore, birds are also a threat to the condition of the HVAC vents, as they can easily block them. These creatures are known for accumulating plenty of junk on the surface of roofs, which they find necessary for building nests. Nevertheless, it's common for them to get rid of the items they don't need by throwing them down the HVAC vents. Such a habit leads to premature wear and tear of the motor. 
Bird droppings are infamous for causing deterioration to roofing materials due to the high levels of uric acid. Their feces have corrosive properties, which weaken the tar and tar paper. Unless these droppings are removed on time, they will most likely lead to shingle disintegration. 
Bird nests are also capable of compromising chimneys, as some species find chimneys the perfect nesting ground. For instance, swifts have a bad habit of nesting inside chimneys, which results in impeded airflow. 
Fire damage
Fire damage is another kind of deterioration mainly covered by insurance companies. The causes of roof fires range from faulty electrical wiring and improperly installed ceiling insulation to leaks and unclean chimneys. Exposed wires lead to the creation of sparks, which might end up in the entire roof swallowed by flames. 
Moreover, the way in which ceiling insulation is installed poses a fire threat. It's paramount for the insulation not to be installed in close proximity to a heat source. Roof leaks are another threat, as water leaking in the attic may cause malfunction of the electric wiring in this area. When wires come in contact with water, a spark is created that ignites the roofing materials in its surroundings. 
Ultimately, not having your chimney cleaned for a long time might result in a fire. The inner lining is coated with creosote, which is of flammable nature. 
Final thoughts
Always contact a roofer to help you with the assessment and provide evidence for your claim!